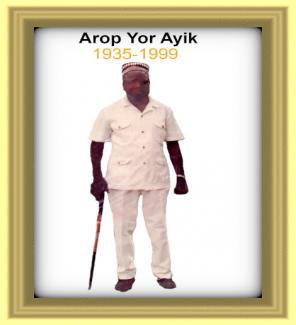 This is a family tribute to a father who has inspired his children to believe in honesty, equality and justice for all.
Arop Yor Ayik (1935-1999) was a South Sudanese academic and politician. He was born in Palo, Doleib Hill, Upper Nile State in South Sudan. He was survived by six children, two sons and four daughters. He always believed in the importance of education and equal opportunities for all regardless of gender, ethnic origin or ability and taught his children the motto "Education is an investment for the future".
Arop Yor Ayik Educational CIC (AYAE) is a Community Interest Company (Non-Profit), with no shares, registered in the United Kingdom. AYAE specializes in promoting the advancement of education and learning opportunities for people in South Sudan and beyond due to displacement and poverty.